When you've finally found your once-in-a-lifetime love and are ready to pop the big question, it makes sense to want to propose with an engagement ring that is as unique as them. An engagement ring is a forever token that embodies the love and relationship you and your partner share. Getting them a unique ring that is as unique as the love you share is something that will stick with you both for life.
That said, we have put together some tips to help you find a perfect unique engagement ring from award-winning engagement ring designer, SYLVIE!
Select a Diamond Alternative
Diamonds are the forever popular choice for engagement rings. However, if you're looking for a standout engagement ring, then you should consider exploring your options. The gem world is full of some stunning gemstones that can give you more bang for your buck. After all, diamond engagement rings can be quite expensive depending on the cut and color of your diamond.
There are many gems out there that have just as much illustrious history as diamonds. In fact, diamond engagement rings only became all the hype during the 1900s. So, if you're looking for a precious engagement ring, you can opt for white sapphires. However, if you're looking for a budget-friendly diamond alternative, zircons are also a great option. Still not sure which one is the right choice? Learn all about why diamonds are the best gemstone choice for engagement rings here.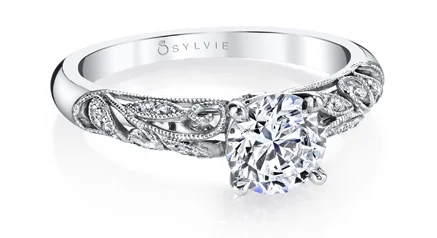 Consider a Colored Gemstone
No one ever said that engagement rings must only be clear. Many gemstones are available in various breathtaking colors. So, if your partner is into color, a colored gemstone engagement ring will truly help represent their personality.
If you have the budget, you should consider choosing colorful diamond rings rather than the traditional clear diamond engagement ring. Moreover, if you don't want to stick to diamonds, you can opt for sapphires, as they are available in pink, blue, and many other colors. Emeralds are also another fantastic choice if you're looking for a stunning and vivid green ring. Lastly, the Sylvie Jewelry has a beautiful collection of blue sapphire engagement rings, which are also one of the most popular birthstones.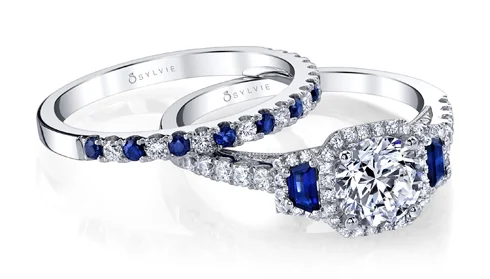 Choose Your Metals Wisely
Most people opt for traditional yellow gold or white gold metal settings for their rings. However, if you want to change up things, it's wise to move away from these traditional metal colors and try something different. Depending on the color of your gem, rose gold can be a new, great option to create a unique and romantic ring. For instance, pink sapphires go impeccably well with rose-gold settings.  You can also mix metals to create an even more unique ring. These rings are called two-tone engagement rings that often feature yellow or rose gold as well as white gold either within the band or in the prongs.
Opt for more Stylish or Fancy Shaped Diamonds
Traditional round and square-shaped gems are the most common shapes for engagement rings. Sure, a round, brilliant shape exudes the depth and beauty of a diamond, but it's okay to think out of the box. Instead of opting for these traditional shapes, consider shopping around for more unique diamond shapes. The top trends for fancy shaped diamonds include oval engagement rings, pear shaped engagement rings or even more unique cuts like marquise diamond rings and heart shaped diamonds.
Customize Your Own Engagement Ring
It can be challenging to find a unique engagement ring setting in the market, so if you want something truly unique and one-of-a-kind, you will have to commission a fully custom engagement ring. That way, you will have the option to choose the gemstone, the cut, the metal, and the setting, helping you create an exclusive beauty for your partner.
There are two ways to build a custom Sylvie engagement ring. First, you can simply tell your Sylvie authorized retailer that you want Sylvie to create a unique ring just for you and tell them which features of existing rings that you like. The second way is to visit the Sylvie Style Bar! Sylvie's style bar is a custom online ring designer that allows you to design your ring from start to finish on our website. Click here to get started and design your own engagement ring!
There are many ways to make a truly unique engagement ring for your to-be wife, from creative additions to personalized features and thoughtful touches. We hope that our tips listed above help you find the perfect engagement ring that will stick with you two for life!
____________
To receive more information on finding the perfect diamond engagement ring, subscribe to our newsletter, or find a retailer near you using the Sylvie Jewelry store locator.
Looking for fashion trends, wedding inspiration, advice, engagement rings and more? Follow us on Facebook, Twitter, Pinterest and Instagram!