Diamond solitaire engagement rings are an ageless engagement ring choice around the globe. The extraordinary minimalism of this ring makes it the ultimate symbol of love for a man or a woman professing their love.
Dazzling in its simplicity, a diamond solitaire ring is an amazing choice for women who love classic styles but still want to make a bold statement. Its status as an iconic symbol of commitment also makes it a great choice for men.
What is a Solitaire Engagement Ring?
A diamond solitaire engagement ring is a ring with a single diamond. Diamond solitaires are found in different jewelry options and mark some of the most special occasions in one's life, such as wedding anniversaries, birthdays, and the most notable event, an engagement proposal. The classic elegance and ability to outshine any stone is what causes most people to fall in love with solitaire rings.
How to Choose a Solitaire Engagement Ring
Shape of the Diamond
A solitaire engagement ring places a diamond as the centerpiece of the ring. So it's quite natural that most people begin the ring selection process by considering the shape of the diamond. A round cut diamond is the most popular shape for solitaire diamond rings.
The stunning brilliance and gorgeous cut give the stone the ultimate sparkle that reveals its depth. A round cut diamond is arguably the most dazzling solitaire ring choice because it allows maximum light to return through the diamond's top. A few other popular diamond cuts for solitaire diamonds include the princes cut, radiant cut, and cushion cut.
Once an engagement ring buyer has selected the shape of the diamond, they move on to looking for the best setting style.
Settings for a Solitaire Engagement Ring
When it comes to choosing a setting for a solitaire engagement ring, there are two main concerns. Firstly, the setting of a ring should be practical; it should be secure enough to hold the diamond in place. Secondly, the setting of the ring should make the diamond look aesthetic, stunning, and breathtaking.
Some of our favorite styles of solitaire engagement ring settings here at Sylvie are hidden halo settings. A hidden halo is not a traditional "solitaire" in the sense that the diamond center is the only diamond because the setting has a "hidden" set of sparkling diamonds that look incredible in the profile! See below for an example of a hidden halo solitaire ring. To learn more about the 4 C's of diamonds, click here to view our diamond ring guide.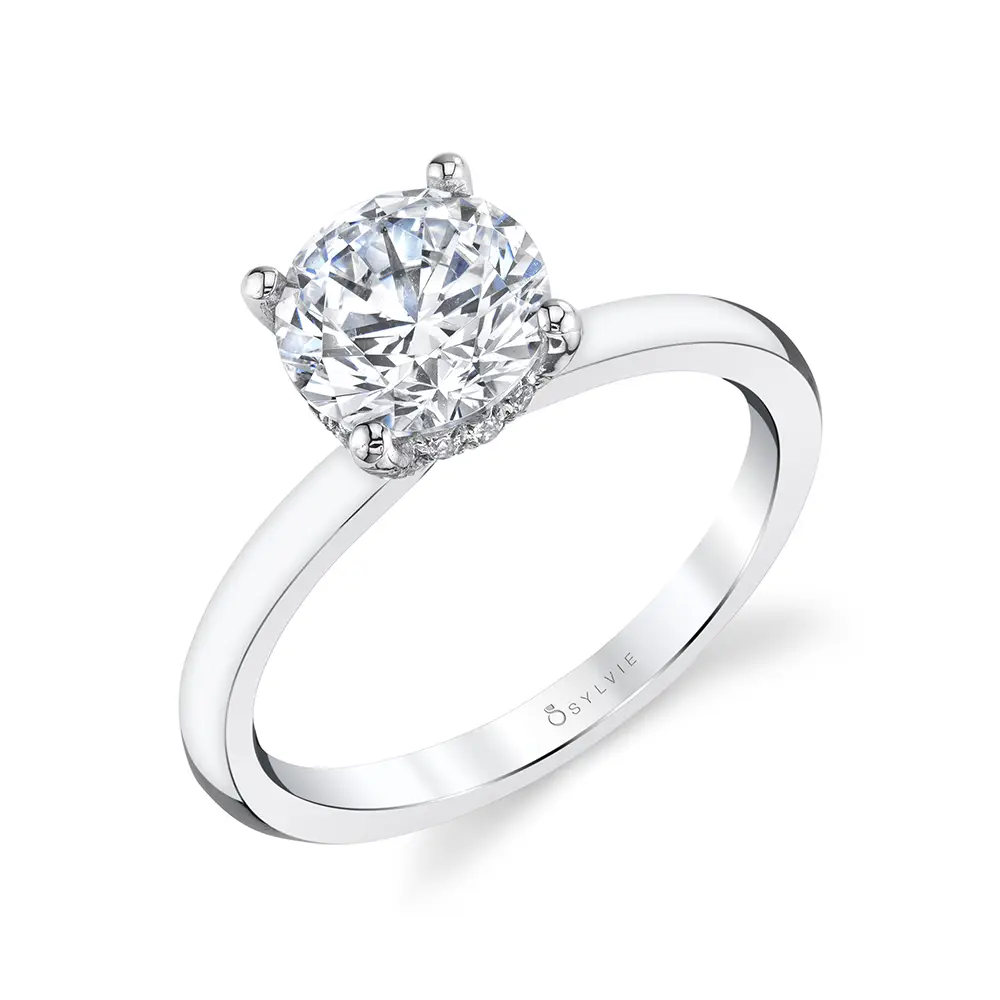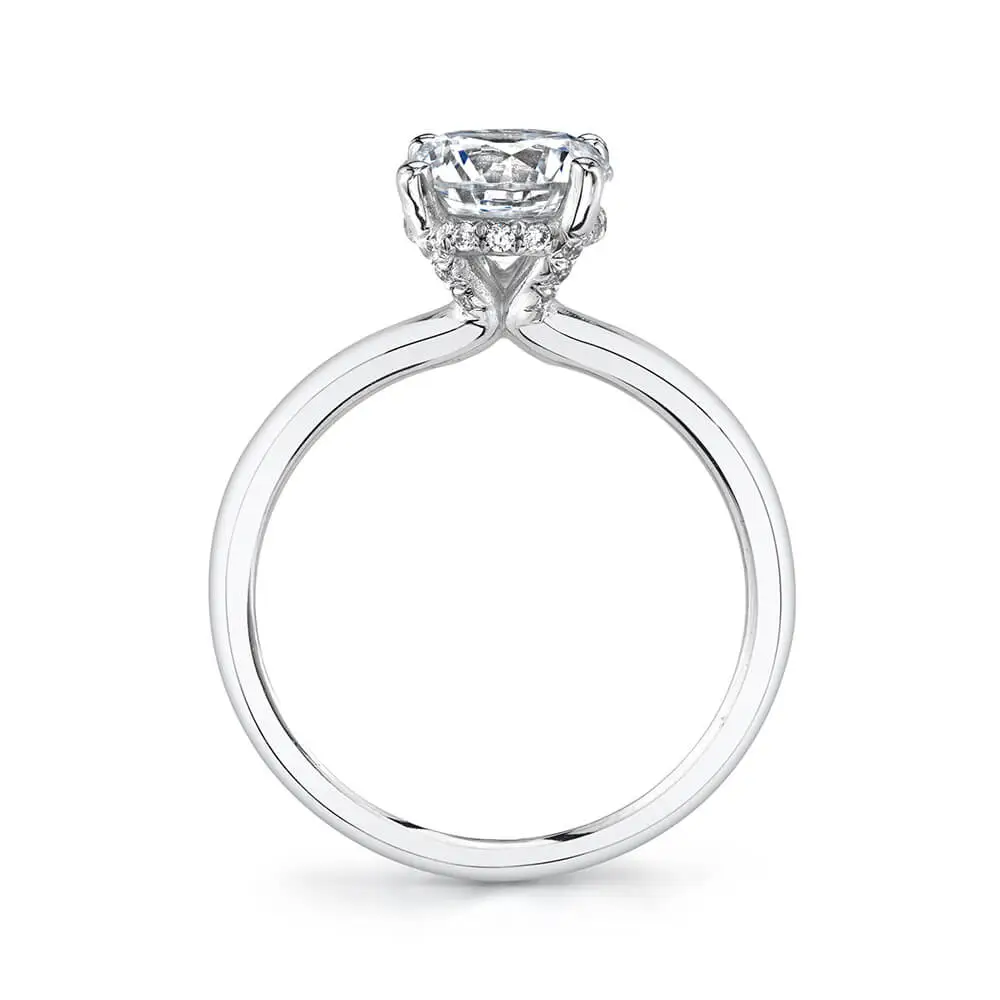 Here are some of the most popular settings for solitaire engagement rings:
Prong Setting
The prong setting is by far, the most common setting for a solitaire engagement ring. With a minimalist style, the diamond is held by prongs like a claw from beneath. Not only do these metal prongs manage to hold the stone securely in place, but they also suspend the stone high enough to maximize its sparkle and details.
Cathedral Setting
With slopes on either side to secure the stone, this type of setting ensures that the diamond is visible. With aesthetic similarities to old cathedrals, this setting makes one reminiscent of beautifully constructed pleasing arches and vaulted ceilings.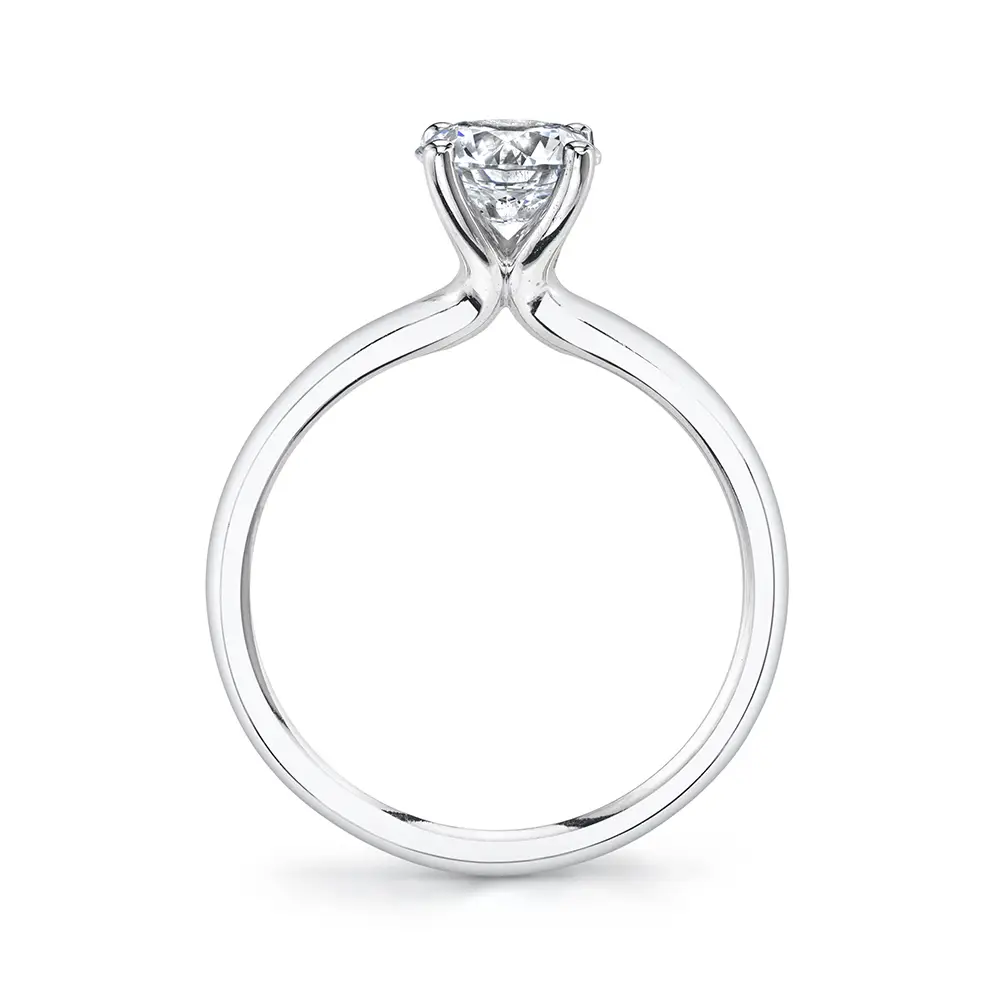 Bezel Setting
Add a modern touch to a solitaire diamond by adding it to a bezel setting. With a sleek metal band that completely surrounds the diamond, this setting fits the stone's shape to a T. Not only does the bezel style look absolutely gorgeous, but it is also extremely practical for a working woman always on the go.
What Wedding Band Goes With a Solitaire Engagement Ring?
A solitaire diamond is a versatile stone that sits well on many wedding bands, offering different looks. For a classic and minimalist look, get your solitaire diamond choice placed on a plain band.
If you're looking to add a little extra sparkle and bling, then a pavé diamond band will serve the purpose! You can also choose a tapered wedding band in which the band thins towards the center, this will create a beautiful look!
The Bottom Line
Despite the shape, style, or setting of the stone, a diamond solitaire ring is a timeless piece of breathtaking jewelry that will please any bride-to-be.
If you're looking to buy a beautiful solitaire diamond engagement ring, then check out our solitaire ring gallery at Sylvie Jewelry now! We have a wide range of stunning engagement rings and the best ring specialists to help you choose the ultimate extraordinary ring for your better half.
____________________________________________
Like these buying tips and want to see more solitaire engagement rings? Browse our full collection of solitaire ring settings by clicking here!
To receive more information on finding the perfect diamond engagement ring, subscribe to our newsletter, or find a retailer near you using the Sylvie Jewelry store locator.
Looking for fashion trends, wedding inspiration, advice, engagement rings, and more? Follow us on Facebook, Twitter, Pinterest and Instagram!