As time goes on, our love for our significant other only continues to grow and deepen. And while the memories of our special day remain evergreen, the symbols of those memories may need a little updating. Celebrating a marriage milestone by upgrading your engagement ring can be a beautiful way to honor your love story. With Sylvie, the possibilities for adding extra sparkle are endless. From a new halo to a wider band, or even a larger carat size, there are numerous ways to refresh the look of your engagement ring and make it feel new again.
Hello Halo
Adding a halo to your engagement ring is an excellent way to upgrade your ring and make it more glamorous. By surrounding the center stone with a circle of smaller diamonds, a halo adds sparkle and dimension to your ring. This contouring effect can make your center stone appear larger and more brilliant, creating a stunning visual impact. The extra sparkle also draws attention to your ring and makes it more eye-catching.
Adding a halo to your setting also provides a great opportunity to customize your ring and make it unique. Sylvie offers various halo styles to fit your taste, including vintage-inspired designs and modern takes on the classic halo. You can choose from different diamond shapes, metal types, and styles, ensuring that your upgraded ring reflects your personal style and aesthetic preferences. With a new halo, your engagement ring will look fresh and modern, while still retaining its timeless elegance.
Opt for a Statement Setting
Upgrading your engagement ring to a wider band is a great way to add more character, detail, and beauty to your ring. A wider band not only provides more space for additional diamonds or gemstones but also allows for more intricate and detailed designs that can further accentuate your center stone. A wider band can also add a sense of timelessness to your ring, making it more unique and special.
Sylvie offers a variety of options when it comes to upgrading to a wider band. From simple and classic designs to more elaborate and detailed styles, there are endless possibilities to choose from. A wider band can also provide a more comfortable fit, especially for those who have larger fingers or prefer a more substantial feel to their ring. With Sylvie's expertise and attention to detail, upgrading your engagement ring to a wider band is an investment that will provide lasting beauty and elegance.
Maximize Carats
Upgrading your engagement ring's center stone size is a bold statement of your enduring love. A larger diamond not only makes a strong impression, but it also has a powerful symbolism. The diamond's durability and timelessness reflect the strength and longevity of your relationship. With Sylvie's endless selection of settings, you can choose the perfect carat size to upgrade your ring and capture the essence of your love story. Additionally, complementing your new center stone with a three stone setting from Sylvie will create a statement piece that is sure to impress. The three diamonds representing your past, present, and future will shine bright, reminding you of the beautiful journey you have shared.
The Sylvie Shell™
The Sylvie Shell™ design is one of our most popular designs, and for a good reason. It symbolizes the seamless connection between two individuals and captures the essence of everlasting love. Sylvie puts careful consideration into every aspect of these designs to ensure that they are a true representation of the bond shared between two people. The shank is perfectly connected to the head of the ring, creating a timeless and elegant look that will last a lifetime. When upgrading your engagement ring, consider choosing a Sylvie Shell™ ring for a thoughtful design that captures the beauty and significance of your marriage.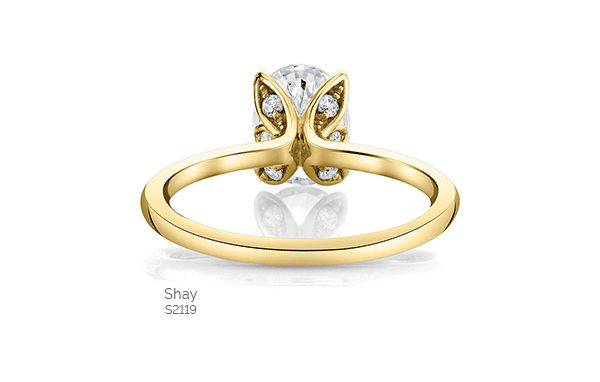 Conclusion
Upgrading your engagement ring to celebrate a marriage milestone is a beautiful and meaningful way to honor the love and commitment you share with your partner. Whether it's contouring and enhancing the center stone with a halo, adding space for additional diamonds, and detailing with a wide band, or honoring the strength of your love by upgrading the center stone size and pairing it with a three stone Sylvie setting, Sylvie has something for everyone. Celebrate your love with an upgraded engagement ring that shines as bright as your future together.