A man enters through the gliding doors of a jewelry store –a place he has never been to before. He immediately feels out of place thanks to the stacks of diamond jewelry staring back at him. But he knows what he must do. With pressure rising, he is then greeted by a store manager who promises to help him find the right ring for his soon to be bride. Trusting the man's word and expertise, the man thinks not all heroes wear capes and tells him he is ready. And then comes out not one, not two but 5 different ring cases each with at least 30 dazzling engagement rings to choose from. To the man, they all look the same but as soon as the salesperson starts pointing out the vast differences, the man realizes what an overwhelming situation he has gotten himself into.
Sensing the man's dilemma, the salesperson then asks a few questions about the wearer to find the perfect fit. Not long after answering all the right questions, he walks out of the store with a small shopping bag filled with a diamond engagement ring in a beautifully engraved case. He then calls up his girlfriend, tells her that they are going out on a date night and after the dessert, he bends down on one knee and pops the big question. The lady, seeing the unimaginably beautiful engagement ring says yes and everyone in the restaurant claps.
Doesn't that sound like a cute story?
But do you realize what made all the difference? What if the man hadn't found the perfect engagement ring? Would he have been able to propose? What was the missing piece to finding that perfect piece?
The personality of the woman! Choosing an engagement ring is difficult but only if one doesn't have an idea of what they are looking for. Some wish to have something timeless and vintage, while others want something more modern or edgy. Some want something unique while others just wish to follow the latest trends. Whichever style or metal you choose, know that it will reflect your personality.
Here is a brief guide about the many different diamond cuts that say something about your personality.
Round or Halo:
Whether you wear rugby t-shirt or a floral dress, elegance is your maiden name. Round shaped engagement rings favor brides who have sophisticated taste but are also traditionalist at heart. Round stones are timeless, effortless, understated and never try too hard. So if she you're naturally charming and elegant, you'll love a classic solitaire or round halo. Need some guidance? Here's some:Amazing tips for choosing the perfect halo engagement ring.

Pear Shaped:
Also called a teardrop shape by many, the pear shaped engagement ring is a bold fusion between the oval cut and marquise. This unique diamond cut is for those who like the idea of being tied up in marriage but also love their independence. Women who wear pear shaped engagement rings loves to stand out from the crowd and are dominant in nature. They like to play by their own rules but wouldn't mind a partner either.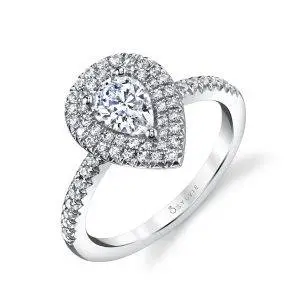 Princess:
A princess cut engagement ring is for a millennial woman with a cool-girl facade. Extremely versatile, this girl is fearless and adventurous yet still loves to get dolled up. It's edgy glamorous look is for brides who have a young, modern sensibility but also wants to show off their girly side.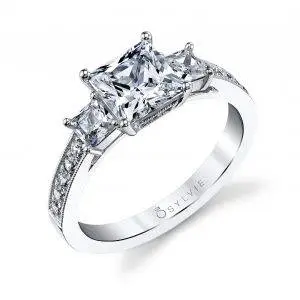 Cushion:
A cushion cut is a fusion between the round cut and a princess cut with soft, curved edges. This diamond cut is the classic definition of romance and fairy tales. This bride is sophisticated, practical, elegant and driven towards her goals both in life and in love. The bride who looks for romance even in the smallest of deeds. Brides who are devoted to tradition and glamour, this ones' for them.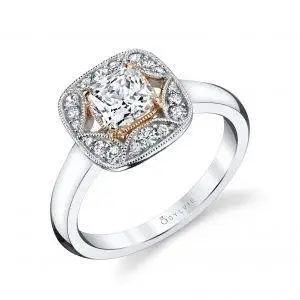 Marquise:
Marquise shaped engagement rings are for the glamorous, bold and outgoing girl. The women who are larger than life themselves and love to be the star of the show. Brides who lead an exciting, drama-filled life and love to keep their partner on their toes. They want everything to be ideal. They get a little finicky when things don't go their way, but it's all part of their charm.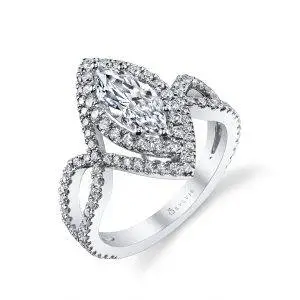 Emerald:
Emerald cut engagement rings are a retro-inspired cut, this one is for ladies who like to lead a daring and adventurous life. They embrace the unexpected with delight and are very confident in the person they are marrying. The skydiving "yes" girls who never backs down. This is a bride who will stick up for others and is a natural born leader. They are also perfectionists so one can expect that all the details at their wedding ceremony will be flawless.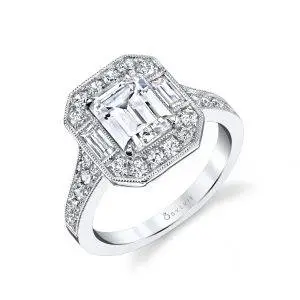 Radiant:
As if the name doesn't speak for itself already, the radiant cut engagement ring reflects light in a beautiful way. All those women who don't want to completely give up the traditional matrimonial touch opt for a radiant touch cuts. Women who confidently wear a radiant cut are playful and like to be kept entertained all the time. They are always looking for something new and interesting to learn about. They hate dull moments in their lives and expect their partners to always give their best shot.
Heart:
You might think heart shaped engagement rings are for the young at heart, the sweethearts, or the girliest of girls. And although that might sometimes be the case, this shape is for women who act razor-sharp on the outside but are much more romantic on the inside. They may give their colleagues tough time at work or try to control every situation, but they love to cuddle in your arms as soon as they get home.
Asscher:
We all went gaga when Carrie Bradshaw wore an asscher cut engagement ring in the Sex and the City. If this woman is wise in the ways of the world and carries herself with elegance and boldness, this ring is for her. These women are often more mature, and prefer a bit of flash in front of a crowd, and they wear it with confidence. Like every true fashionista, this woman is always one step ahead.
Still need some more advice when it comes to choosing the perfect ring for her? Don't worry we have got a few. See how to choose an engagement ring that will wow her and know what she truly wants!
For more information on finding the perfect diamond engagement ring, subscribe to our newsletter, or find a retailer near you.
Looking for fashion trends, advice, and more? Follow us on Facebook, Twitter, Pinterest and Instagram!