SAY HELLO AND CONGRATULATIONS TO OUR SYLVIE BRIDE & GROOM: Rick & Carly from the Rick & Carly Show – The Eagle 96.1 FM
TELL US YOUR STORY
I've known my fiance rick for ten years. If someone would have told me then that someday I would marry that man I probably would have laughed out loud. We had a brother/sister type of Relationship where he teased me all the time. The romance was the farthest thing from my mind. Through the years we faced many challenges Together. Losing jobs, divorces, problems with our kids, and at the end of the day, we were there for each other like no one else was. We cried together, laughed together, and ultimately fell in love.
HOW THEY MET
Rick and I met at work. It was when we didn't work together anymore that I think we really knew we loved each other and didn't want to live without each other.
Editors Note: The Rick & Carly show is a hit FM radio broadcast show in Salt Lake City, Utah. To learn more about their show click here!
HOW DID YOU KNOW THEY WERE "THE ONE"?
Two years ago Rick moved to Fargo, North Dakota. We talked on the phone all the time, but that's when I knew I needed him in my life every day forever.
HOW DID HE PROPOSE?
Rick told me we were Going to shoot a promotional video for work. After I said my first line, he pulled out the ring and asked me to marry him. I could not have been more shocked!
WHY DID YOU CHOOSE A SYLVIE RING?
I gave Rick some ideas about my favorite diamond shape (pear) and told him I wanted something simple, super feminine, and timeless. The Sylvie Jewelry is all those things and more! I could not be more in love with my ring!
WHERE DID YOU PURCHASE YOUR SYLVIE RING?
We purchased our ring at K & Co. Family Jewelers in Eagle, Idaho.
WHICH SYLVIE RING DID YOU CHOOSE AND WHY?
We chose the Valencia Pear Shaped Hidden Halo Engagement Ring.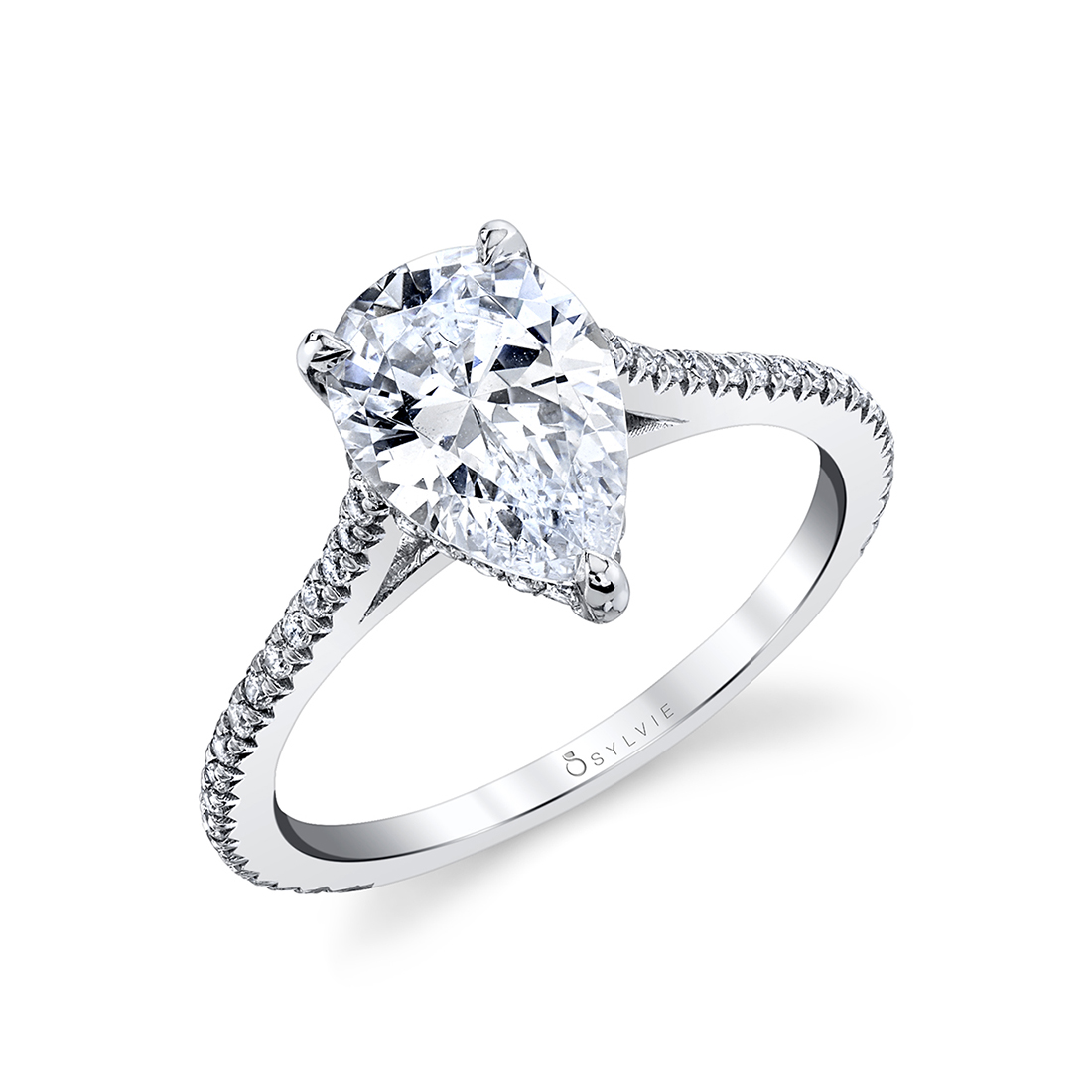 WHAT DO YOU LOVE MOST ABOUT YOUR RING?
I love how it fits my personality so well. Many people have commented, "that ring is so you!" I love the beautiful pear-shaped solitaire engagement ring and the double stacked halo on the bottom is my favorite part!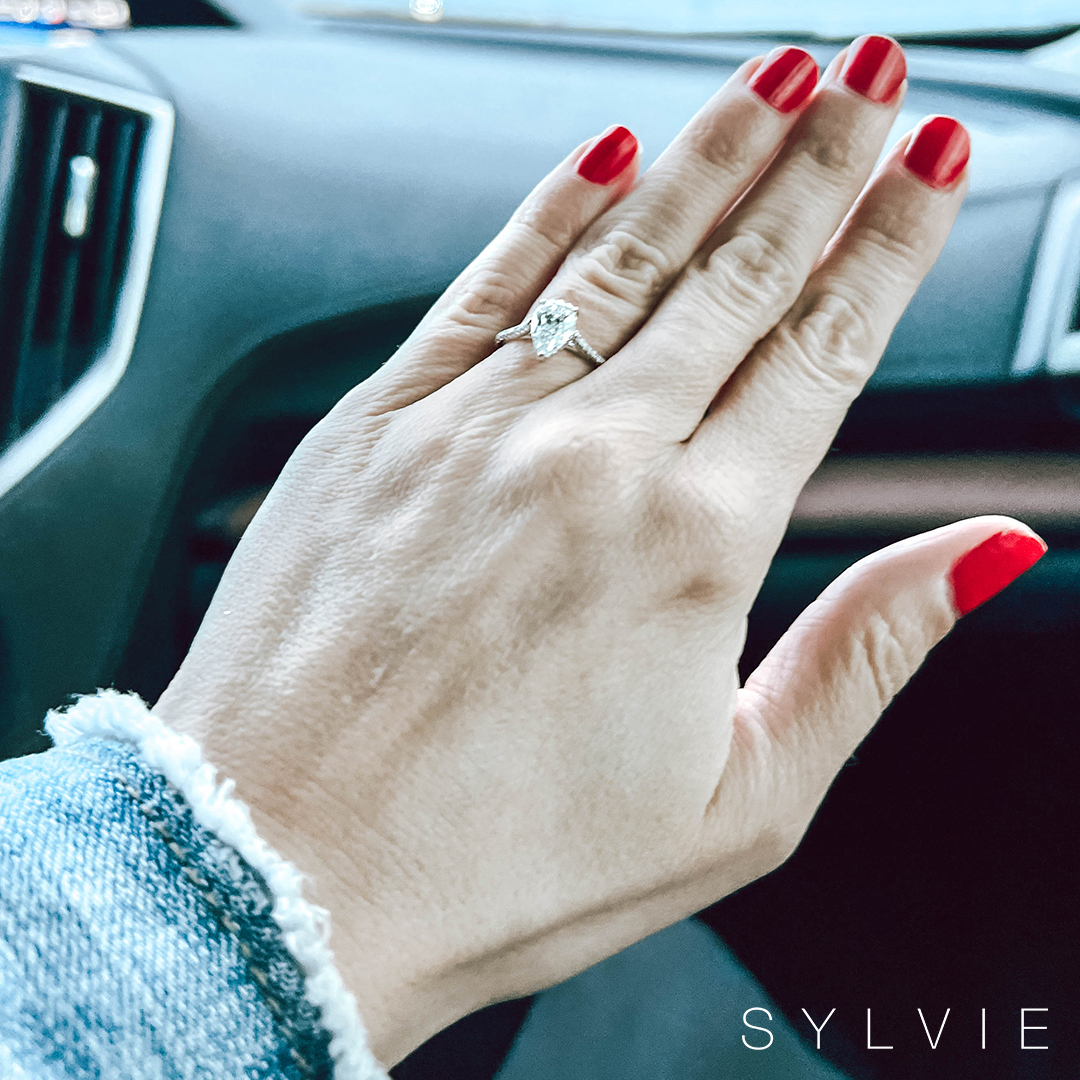 WHAT DO YOU LOVE ABOUT YOUR GROOM?
Rick is my best friend in every sense of the word. We've been there through thick and thin for so many years. Besides my children, he's the greatest joy in my life. Nobody gets me like he does.
OMG….. How sweet is that? ♥
---
Like this pear engagement ring style? Browse our collection of stunning pear-shaped engagement rings by clicking here!
To receive more information on finding the perfect diamond engagement ring, subscribe to our newsletter, or find a retailer near you using the Sylvie Jewelry store locator.
Looking for fashion trends, wedding inspiration, advice, engagement rings, and more? Follow us on Facebook, Twitter, Pinterest, and Instagram!