SAY HELLO AND CONGRATULATIONS TO OUR SYLVIE BRIDE & GROOM: TEANNA & ALEX
TELL US YOUR STORY
Alex and I are from the same hometown, St. Johns, Michigan. He was a couple of years older than me in high school. We always knew of each other and had mutual friends, but we didn't know anything about each other. That was back in 2011. Fast forward to October of 2018 when he swept me off my feet! He spotted me out at a mutual friend's engagement party, asked my friend for my phone number, asked me on a date the next weekend, and then the rest is history! At the time, we lived and worked about two hours apart and only saw each other on the weekends. We always took advantage of those weekends to explore new places, meet new people, and make great memories. In November of 2019, Alex bought a house that was halfway between both of our jobs. That allowed us to spend more time together than just the weekends. In June of 2020, I moved in with him! We learned so much about each other. He says his favorite thing he learned is how good of a cook I am! Throughout that summer, fall and now winter we spent time talking about our life goals and how we are going to make the future one we've been dreaming about. That's when he asked if I wanted to go look at rings. Christmas, new year's, and Valentine's day went by as I was anxiously waiting for him to pop the question. Little did I know that he had been planning our engagement weekend that whole time with the help of some of our good friends. The weekend of February 27th, we went skiing with those friends in northern Michigan and that night Alex asked me to marry him. I couldn't be more excited to spend forever with the man of my dreams. The best has yet to come for us!
HOW THEY MET
Alex and I met at a mutual friend's engagement party. It was at a local bar in our hometown called knob hill tavern. There were a couple of times that night I caught Alex staring at me, but I did not think anything of it besides the fact that he was quite handsome. The day after the party, Alex happened to be at a get-together where some of my friends were. He asked some of them about my story. They must've had great things to say about me because they gave him my phone number and the next day, he texted me asking me on a date. We got dinner and drinks that next weekend and haven't looked back since. We still thank those friends to this day for having that party and hooking us up!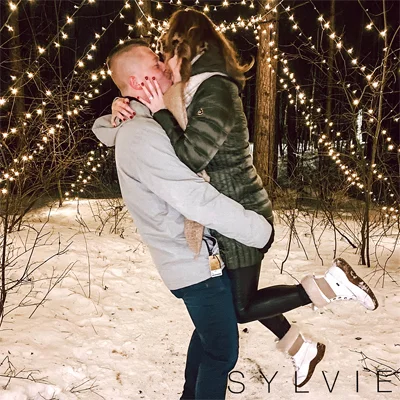 HOW DID YOU KNOW THEY WERE THE ONE?
We both agree that the moment we knew our relationship really had potential and saw a future together was when we went on a vacation to Punta Cana for my best friend's wedding in December of 2019. We spent a week on the beach, at the pool, and celebrating love while making the best memories with amazing friends!
HOW DID HE PROPOSE?
Alex planned the weekend of February 27th to go skiing with some friends at Boyne highlands resort in harbor springs, Michigan. We skied all day long on that Saturday. Then at night, we had plans to walk through the enchanted trail at the resort. I had previously seen pictures of this trail on social media with a really pretty lit up blue "happy" sign and I briefly mentioned to Alex that it would be a beautiful place to get engaged. Well, he listed to me! We walked through the 1–2-mile trail and got a spiked hot chocolate at the yurt. He then asked if I wanted to take pictures at the "happy" sign, which was a bit strange because he's not a fan of taking pictures. However, that's when he got on one knee and asked me to marry him. I was beyond surprised! Our friends were on picture duty and helped him plan the whole thing. The staff at Boyne highlands popped some champagne for us to celebrate with. After that, Alex and my dad had previously planned for my whole family to be at my parents' house to celebrate even more. We are so blessed to have such amazing friends and family who support us!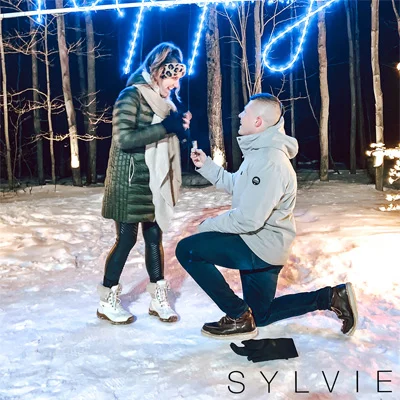 WHY DID YOU CHOOSE A SYLVIE RING?
We weren't really sure what Sylvie rings were until we went to this small-town jeweler and tried rings on while learning more about them. Every ring I tried on was absolutely beautiful. I had a tough time deciding which one I liked best, so I let Alex choose and surprise me. We are so excited to go back to pick out wedding bands to match!
WHICH SYLVIE RING DID YOU CHOOSE?
My ring is oval with a small halo. It's the Alexandra oval engagement ring, SKU: s1814. We also added a side profile that had a design to it, very similar to the solitaire engagement ring Lydia, SKU: s2033. I had tried on a ring with this side profile and absolutely loved it!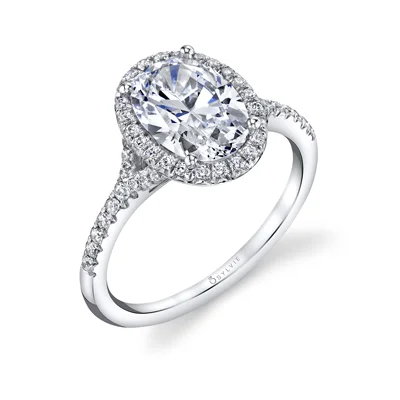 WHERE DID YOU BUY THE RING?
Alex got my ring at Silverstone Jewelers in downtown Howell, Michigan. He said Kallie was amazing to work with!
WHAT DO YOU LOVE MOST ABOUT YOUR RING?
My favorite part is the side profile. I'm so happy we were able to customize the ring by adding that little detail! And of course, I love how sparkly my ring is! It glistens in the sun and I cannot stop staring at it.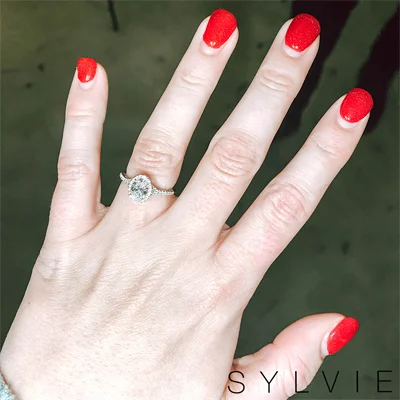 AS THE GROOM, WHAT DO YOU LOVE ABOUT YOUR SYLVIE BRIDE?
I love how genuine and sincere Teanna is with everything she does in life. She always tries to put other people's needs and wants before her own and does her best to be very welcoming and make others feel comfortable. With these traits, she tends to wear her "heart on her sleeve". Some may think that this can be a negative as others make take advantage of these types of people, but I only find this trait as positive as she is always showing her true self and is never fake or dishonest. The more time I spend with her, the more I re-assure myself on my decision of asking her to marry me and look forward more and more to the future every day.
How sweet are they? Congrats to the beautiful couple!
______________________________________________________
Like this halo engagement ring style? Browse our collection of halo engagement rings by clicking here!
To receive more information on finding the perfect diamond engagement ring, subscribe to our newsletter, or find a retailer near you using the Sylvie Jewelry store locator.
Looking for fashion trends, wedding inspiration, advice, engagement rings, and more? Follow us on Facebook, Twitter, Pinterest and Instagram!