A variety of engagement ring styles, ranging from simple to ornate, are available on the market today. Although buying an engagement ring can be quite challenging, it's important to stick to a ring style that best suits your needs. A great place to start shopping for the perfect engagement ring is to consider a classic engagement ring style.
A classic engagement ring has many amazing features and benefits that make it dazzling forever. With the perfect mix of simple and trendy, this ring style is loved by all.
That being said, here are a few of the most popular classic engagement ring styles you should know about.
Solitaire Engagement Rings
Solitaire ring settings are the most popular engagement ring style. This type of ring comprises a single stone, typically a diamond that takes center stage. Solitaire rings are a truly classic design due to their simplicity that allows them to be paired well with everything. Whether you're off to a formal or casual setting, a solitaire ring is suitable for any outfit. Also, the minimalism of the design allows you to choose from an extensive range of different-shaped center stones, such as oval stones and emerald cuts. You can also level up the size of your center stone since it will be the main focus of attention.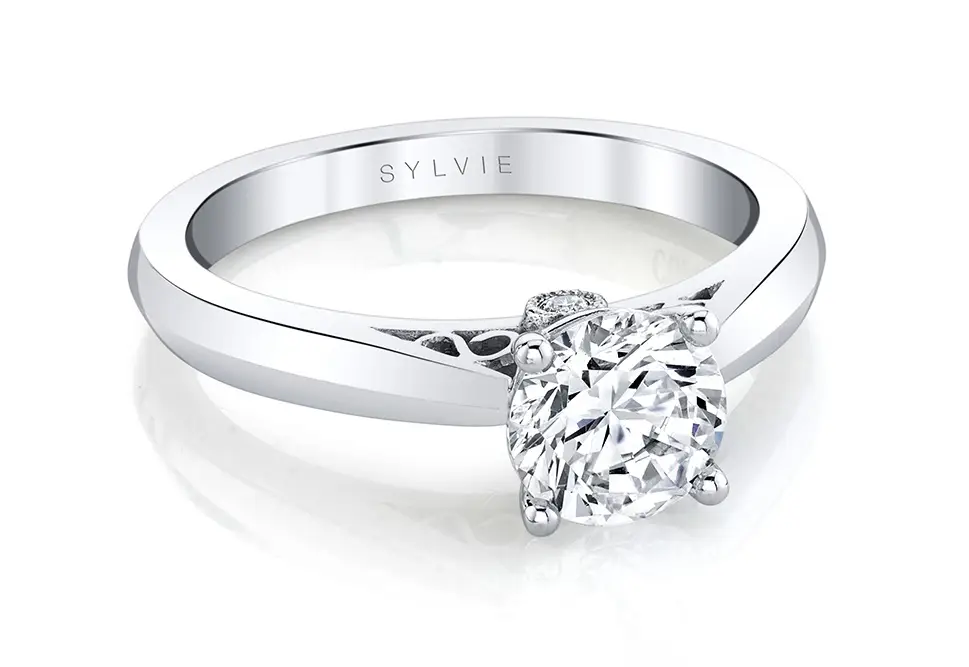 Accented Engagement Rings
An accent engagement ring is a timeless piece of jewelry. Offering an extra sparkle, this ring style features a center stone surrounded by multiple side stones. Accented rings are found in various looks as the center stones and side stones can be customized in any shape. Oval and pear center stones with brilliant round accents are usually the best choices for a modern and classic ring that will be in style for many decades. Click here to view some of our favorite oval engagement rings.
Three-Stone Engagement Rings
A three-stone engagement ring holds a deep and symbolic connotation that other rings don't. As the name suggests, a three-stone engagement ring features three stones; a big center stone that is surrounded by two small stones on either side.
The first small stone symbolizes your past and how you reached the stage of love that you're now at. The large stone in the center of the ring represents the present commitment you're in, and the third side stone is a representation of your future together. Besides the romantic significance, this beautiful classic ring is known for its dazzling style.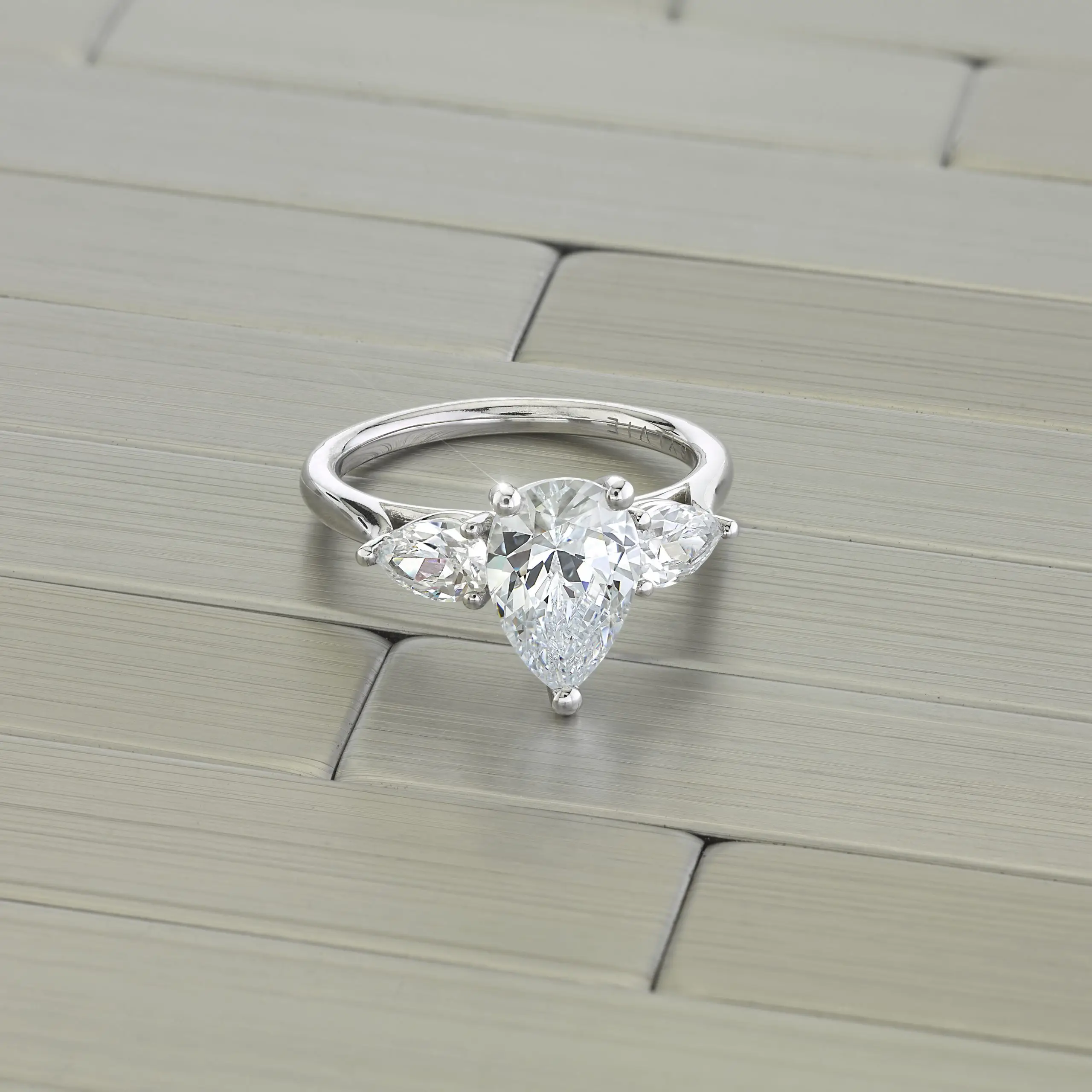 Round Brilliant Engagement Rings
Round brilliant is the most coveted stone shape. The reason behind the popularity of this ring style is that it has an idyllic pattern that offers maximum light return and sparkle. The timeless charm of round-cut engagement rings makes it just perfect. This ring style will shine gracefully through the years and will still be in style, even when the time comes to pass it down to other generations of your family.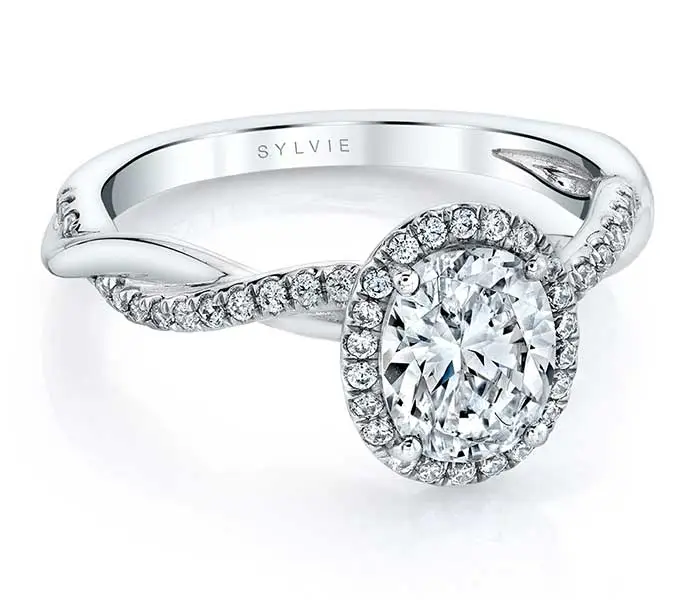 Halo Engagement Rings
A halo engagement ring is popular due to its sparkle and ever-radiant beauty. The halo style is great for individuals who want their engagement ring to be the focus of attention. Not only are halo engagement rings classic enough for everyday wear, but they are also dazzling enough, making them different and unique. However, halo engagement rings require quite a bit of maintenance since they feature multiple stones.
Wrapping Up
Now that you're well-acquainted with the most popular types of classic engagement ring styles, you can make your purchase confidently. A timeless design, such as an accented ring or solitaire, will ensure that your ring will be the center of attention everywhere you go. The best benefit of choosing a classic engagement ring is that you can pair it up with a formal dress or an everyday casual ensemble to add the perfect final touch to your outfit.
__________________
Love these tips and want to see more engagement rings? Browse our full collection of designer engagement ring settings by clicking here! Remember when you're browsing that ALL Sylvie Jewelry rings can be made with any shape, size of the stone, or metal you desire!
To receive more information on finding the perfect diamond engagement ring, subscribe to our newsletter, or find a retailer near you using the Sylvie Jewelry store locator.
Looking for fashion trends, wedding inspiration, advice, engagement rings, and more? Follow us on Facebook, Twitter, Pinterest and Instagram!