SAY HELLO AND CONGRATULATIONS TO OUR SYLVIE BRIDE MOLLY!
TELL US YOUR STORY
My fiance and I met almost 8 years ago right after I had ended a previous long-term relationship. We met at work and would spend hours together after our shifts ended to spend time together. Sometimes until the early morning, just spending time at parks talking and getting to know one another. From the start, we connected. We stayed together long distances for 5 years while I was in school. After I graduated, we moved together back to our home state and enjoyed living together and getting pets together!
HOW THEY MET
We met in the Summer of 2013 when we both worked at Panera bread. I was only working there for the summer while I was home from college. We quickly started hanging out and then started dating shortly after. 2 weeks after we started dating, I went back to college and we were long-distance for 5 years while I did my bachelors and masters degrees.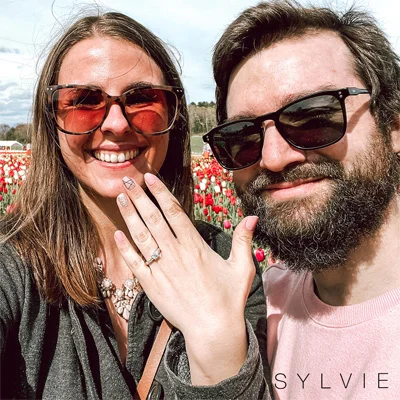 HOW DID YOU KNOW THEY WERE THE ONE?
We spent a lot of nights after we both got off of work hanging out together. Often until the early morning. He made the effort to make the long drive to visit me pretty often and was never upset when my schedule was super busy. He let me have my independence and was supportive of my career goals. I knew pretty quickly he was special and I think it was in the first two weeks that I realized that this was different than my other relationships.
HOW DID HE PROPOSE?
I had made plans to go to Wicked Tulips tulip farm in Preston, CT, just for a fun trip to do together that was "covid safe". We arrived at the tulip farm on a nice sunny may afternoon. He commented that there were a lot of people there, and I thought nothing of it. He brought me over to the back corner of the tulip field and I started to pick some pretty tulips. When I turned around he was down on one knee and proposed. It was perfect and so unexpected!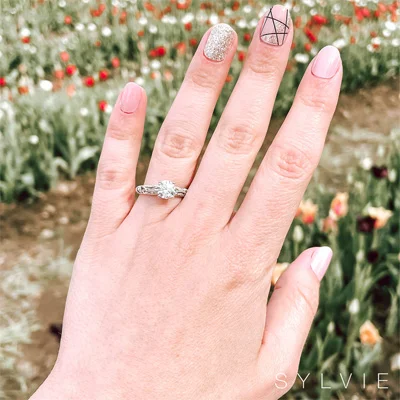 WHY DID YOU CHOOSE A SYLVIE RING?
I loved the unique styles that Sylvie had to offer. So many of the rings were elegant, beautiful, but still unique and had their own flair! There were several Sylvie rings on my list of "ring inspirations." I also love that I was able to support a woman-owned business/designer. I also loved the beauty and simplicity of the ring but that it was not a style I had seen elsewhere. It is truly one of a kind, and like the jeweler who sold it to my fiance said, it is truly an art piece and not just a ring!
WHERE DID YOU PURCHASE YOUR SYLVIE RING?
We bought our ring at Cellini Design Jewelers in Orange, CT.
WHICH SYLVIE RING DID YOU CHOOSE?
We chose the vintage-inspired engagement ring, the Roial Ring – S1392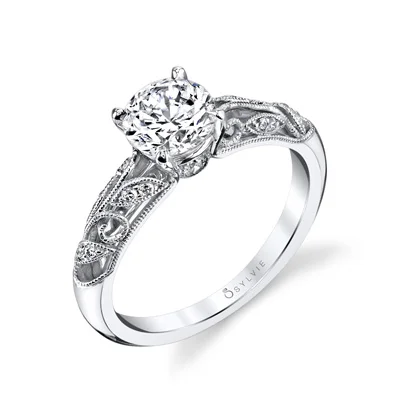 WHAT DO YOU LOVE MOST ABOUT YOUR RING?
I loved this ring because it was gorgeous but had a unique style and twist with the beautiful vintage feeling leaves on the band. The diamonds in the leaves are an extra bonus! My fiance got a 1ct diamond for the center stone and it is perfect! I love nature and especially trees and leaves (I have a large tree tattoo). I love having a ring that is classy but unique from other solitaire stones. I have already gotten so many compliments!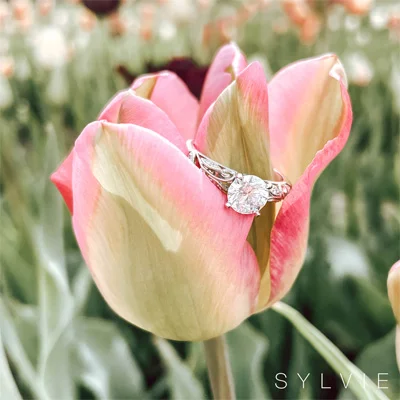 AS THE GROOM, WHAT DO YOU LOVE ABOUT YOUR SYLVIE BRIDE?
"I love her passion and willingness to always help others. I also love that she is someone who loves our pets (hamster and rabbit) as much as I do!"
What a beautiful couple! ♥
---
Like this unique vintage engagement ring style? Browse our collection of vintage engagement rings by clicking here!
To receive more information on finding the perfect diamond engagement ring, subscribe to our newsletter, or find a retailer near you using the Sylvie Jewelry store locator.
Looking for fashion trends, wedding inspiration, advice, engagement rings, and more? Follow us on Facebook, Twitter, Pinterest and Instagram!