Springtime is the season for weddings, which means it's time to pull out your best wedding guest attire. The weather is mild, the flowers are in full bloom, and the world seems to come alive again after a long, cold winter. With longer days, the gentle breeze and warm sunshine, spring offers the perfect setting for couples to exchange their vows and start their new lives together. The season's fresh and vibrant colors, coupled with the promise of new beginnings, create a romantic atmosphere that inspires hope and joy.
When it comes to attending a wedding, finding the perfect outfit is only half the battle. Accessories play a crucial role in completing your look and can elevate your outfit to the next level. The right accessories can make a simple dress look glamorous, or a plain suit look sophisticated. Whether you're going for a classic, trendy, or eclectic look, accessorizing is an essential part of wedding guest fashion. In this era of fashion-forward weddings, it's important to know how to accessorize and what pieces to wear to make a statement.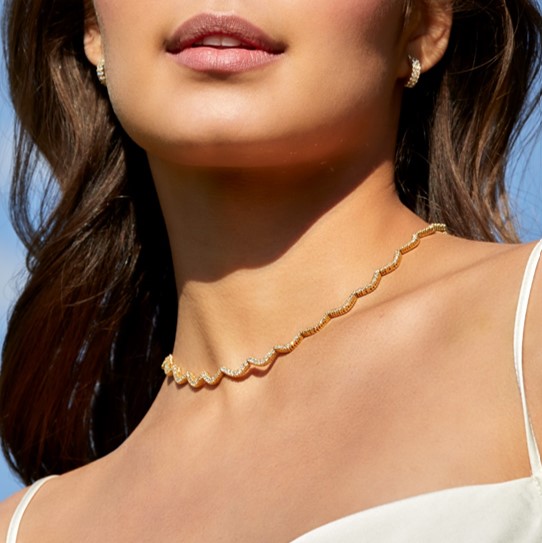 High End Wedding Guest Favorites: Diamonds are a girl's best friend.
A piece of jewelry that sparkles and shines can add the perfect touch of elegance to your outfit, making you feel like the most elegant woman in the room (or the second most). Whether it's a dainty necklace that shines or a pair of statement earrings, choosing the right jewelry can make you stand out in a crowd of guests and leave you feeling confident and beautiful.
For a timeless and sophisticated appearance, consider this stunning curved necklace in yellow gold adorned with 6 carats of brilliant round diamonds. The combination of the bright diamonds and the lustrous yellow gold create a classic and chic style that is sure to turn heads. With its exquisite craftsmanship and elegant design, this diamond necklace is the perfect accessory to complement any formal outfit.
Bring your outfit all together with these elegant diamond huggie hoops that boast two rows of sparkling round diamonds, totaling 1.5 carats. These classic hoops are the perfect way to add polish to any outfit. Their small size allows for versatility, as they can be worn alone for a simple yet refined look or paired with larger earrings for a trendy and edgy appearance.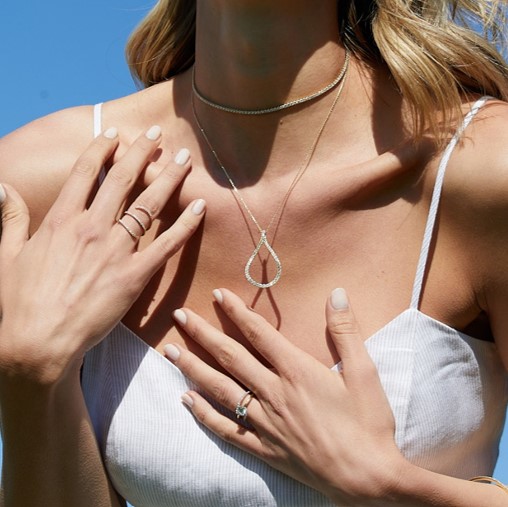 Minimalist Classics
Minimalism is the trend that combines elevation with refinement, and it's not hard to see why. When it comes to accessorizing for a wedding as a guest, a minimalistic approach can be an excellent way to create a subtle and sophisticated look. It's all about simplicity, clean lines, and understated elegance. Minimalist accessories can be just as impactful as their more elaborate counterparts, making them a great option for those who prefer a more subtle style.
Incorporating minimalism into accessorizing as a wedding guest is all about choosing quality over quantity. Instead of wearing multiple pieces, choose a few key accessories that complement your outfit and highlight your features. Simple pieces such as stud earrings, delicate necklaces, and dainty bracelets can be the perfect finishing touches to a chic and minimalist look. By embracing minimalism in your wedding guest accessories, you can create a timeless and effortless style that is sure to turn heads.
The beauty of this 3.50 carat diamond tennis choker necklace lies in its simplicity. Its classic design and delicate diamonds are a perfect example of how less can be more when it comes to accessorizing for a wedding. The choker style also adds a touch of modernity to the piece, making it a versatile accessory that can be worn with a variety of outfits. If you're looking for a refined and elegant look that exudes minimalism, this diamond tennis choker necklace is an excellent choice.
For those who appreciate modernity in jewelry, this yellow gold teardrop diamond necklace is must-see. Its contemporary hoop design is a fresh take on traditional necklace styles, while the 0.52 carats of dazzling round diamonds add a touch of glamour and sophistication. The teardrop shape of the pendant also adds an element of elegance to this already stunning piece.
This free-form diamond ring exudes minimalist elegance with a touch of glamour. Delicate diamonds, totaling .41 carats, are placed in a perfectly spiraled pattern on a sleek yellow gold band. The result is a stunning ring that will make a dazzling statement without overwhelming your outfit.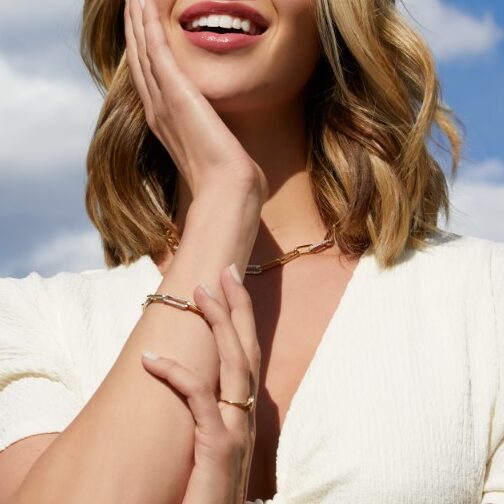 Two-tone is Better than One
Two-tone jewelry is a versatile and trendy way to accessorize for a wedding. Combining two different metals, such as yellow and white gold or silver and rose gold, creates a unique and style-savvy look that can complement a wide range of outfits. Whether you prefer minimalist or statement pieces, two-tone jewelry can add edginess to your wedding guest attire.
Accessorizing as a wedding guest with two-tone jewelry can be a great way to showcase your personal style while staying on trend. Whether you opt for a classic two-tone necklace, earrings, or a bracelet, the combination of different metals can add a touch of glamour to your outfit. Two-tone jewelry can also be a great way to mix and match with other pieces in your collection, making it a versatile and practical choice. No matter what your style preference, incorporating two-tone jewelry into your wedding guest ensemble can help you stand out in a unique and fashionable way.
What sets this 4.65 carat paper-clip necklace apart is its two-tone design. The combination of white and yellow gold and diamonds creates a timeless and versatile look that can be worn with a variety of outfits. The alternating links add dimension and visual interest, making it a piece that is both fashionable and classic. This necklace is the perfect way to add a touch of glamour to any ensemble and radiate sophistication. With its luxurious design and expert craftsmanship, this two-tone paperclip necklace is a must-have for any jewelry collection.
Add a touch of modern flair to your jewelry collection with this stunning two-toned paper-clip bracelet. This on-trend piece boasts a sleek and stylish design, with alternating yellow and white gold links that create a contemporary look. The addition of 0.75 carat brilliant diamonds adds a touch of glamour, making it the perfect accessory to elevate any outfit.
Conclusion
In conclusion, accessorizing is an important aspect of any wedding guest outfit. From timeless classics to modern trends, there is a wide range of jewelry options to choose from. Whether you prefer minimalistic pieces or statement jewelry, finding the perfect accessory can help you feel confident and put together as you celebrate with the happy couple. Remember to choose pieces that complement your outfit and personal style, and don't be afraid to have fun and experiment with different trends and designs. With the right accessories, you can look and feel your best as you make memories that will last a lifetime.